/content/fplgp/us/en/northwest/about/education-and-workforce-development/education-funding.html
NextEra Energy Scholarship for Black Students in SECME 
NextEra Energy Foundation will award up to 10 scholarships each year to graduating high school seniors who have at least one year of experience in a SECME program in one of the following counties: Brevard, Broward, Escambia, Flagler, Hendry, Manatee, Miami Dade, Palm Beach, Seminole and Volusia.
The reward will be $5,000 per year, renewable for up to three years or until a bachelor's degree is earned, whichever occurs first – up to $20,000. The recipients of this scholarship must plan to enroll in full-time undergraduate study at an accredited two- or four-year college or university for the entire academic year.
Please click here for more information
Applications accepted for the 2022 scholarship 12/15/21 - 3/31/22. High school seniors apply here.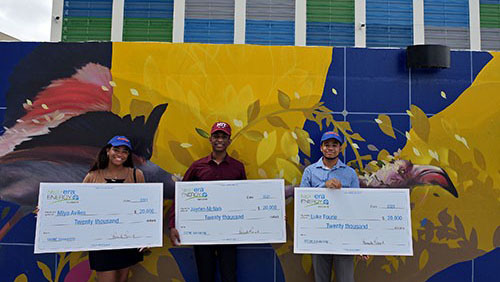 Congratulations to Miya Aviles of Hialeah (left), Jayden McNab of Miramar (center) and Luke Fourie of Homestead (right), the 2021 recipients of the NextEra Energy Scholarship for Black Students in SECME
FIRST® Robotics Scholarship
The NextEra Energy Foundation is proud to provide a scholarship opportunity to reward FIRST® students whose experience has inspired their interest in an engineering or information management career. One $5,000, renewable scholarship will be awarded to a high school senior who has two or more years in an FTC or FRC program in FPL's service area. A weighted cumulative GPA of 3.0 is required to apply and students must maintain a 3.0 GPA to renew each year.
Before the award is paid out, the winning student must be accepted to an accredited four-year college or university majoring in information science (or related field) or engineering.
Applications accepted for the 2022 scholarship 12/15/21 - 2/15/22. High school seniors apply here.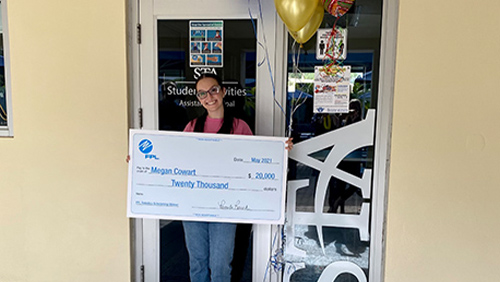 Congratulations to Megan Cowart, the 2021 recipient of the FPL Robotics Scholarship
NextEra Energy Classroom Makeover Grant
As part of our commitment to STEM education, the NextEra Energy Foundation will award up to five schools in Florida each a $50,000 classroom makeover grant to improve technology, equipment and resources for the next generation of innovators.

This grant is intended to provide transformational learning opportunities for Black students in a classroom setting and will be offered each year from 2021 through 2024. Funds are available to address needs in infrastructure, technology or resources (i.e. software, equipment, books, training of teachers, tutors, paraprofessionals) to advance the STEM curriculum and increase exposure of Black students to STEM education and careers.
This grant is open to all public, private and charter schools and all grade levels in FPL's service area in Florida. Grants are also available through the program to schools in areas served by FPL's sister company NextEra Energy Resources. As with all foundation grants, no customer dollars are involved.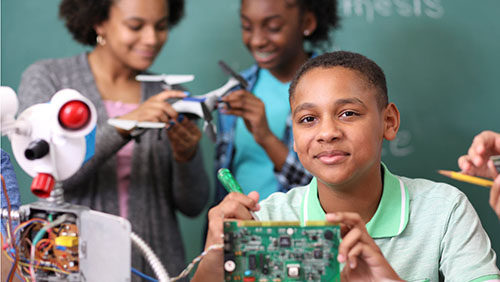 Watch this video to learn more about classroom makeover grants
Science Fairs
Science fairs are a great way to inspire young minds and future scientists. We support only district-wide science fairs with categories of energy or engineering. If your district would like to be considered for a science fair grant, send the appropriate paperwork to Maureen.Wilt@FPL.com.
Due to the number of schools in our service area, we cannot provide grants or support to individual schools for their science fair activities.