/content/fplgp/us/en/northwest/about/education-and-workforce-development/robotics.html
Robotics, Drones & Underwater ROVs, oh my!
FPL supports STEM at every level and we offer financial support to fund teams and to help exceptional students in the 43 counties and 35 school districts we serve. STEM skills, plus leadership and communication talents, are leadership skills for those who want to enter the workplace immediately after high school or who wish to continue on to higher education.
Starting with Robotics: 
Apply today to start your drone team!
Robots from the FIRST Robotics Competition
A robotics team operating robots
---
Robotics Sponsorships
Robotics programs are a great way to spark curiosity and drive interest in STEM careers for Florida's students. Throughout the FPL service area, we sponsor teams at all levels of the FIRST® (For Inspiration & Recognition of Science & Technology) family of programs. We also sponsor a number of regional competition events in Florida.
At FPL, we have increased our STEM financial support for our 2023 robotics sponsorships to ensure we are supporting the next generation of STEM leaders. New this year, we have partnered with the Consortium of Florida Education to manage our extensive robotics grants program. The program distributes funds to local robotics clubs, including drone teams and, now, underwater robotics teams. We are working with the Consortium to identify additional opportunities to support STEM activities throughout the state.
To apply for a robotics grant, please click here.
To learn more about the partnership between FPL and the Consortium of Florida Education, please click here. 
Once applications are reviewed, it will take up to 45 days from processing to receive payment.
---
Drones
FPL will continue its support for the company's "Drones in Schools" program, which brings the excitement of drone racing to the classroom or after-school programs with hands-on experiences.
Drones in School uses small-scale drone technology, allowing students to develop technical skills through a process that is safe and scalable for the classroom environment. This free program is available for all schools (public, private, charter, home-school) on a first-come, first-served basis for grades 6-12.
For more information, please email FPL at Education@FPL.com.
A drone team operating a drone.
---
Underwater ROVs
FPL is entering the exiting world of underwater ROVs this year. More information about this program will be forthcoming. 
---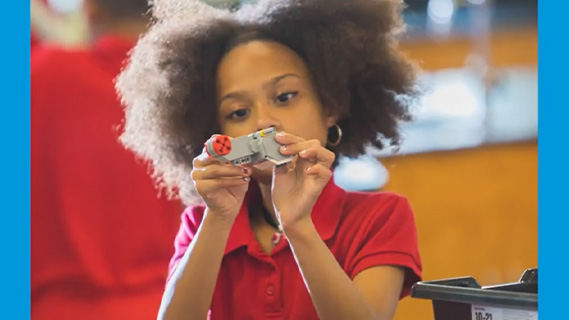 FPL Robotics Programs
Watch this video to learn more about FPL's robotics programs.