Planning for Significant Economic Benefits
FPL's planned $888 million investment will generate substantial economic benefits for Broward County and Southeast Florida. Should our proposed facility receive all needed approvals, local communities and residents would benefit from an estimated $297 million in tax revenue for the county, the school district, Children's Services Council and other taxing authorities after operations begin in 2022. During construction, the project will create approximately 300 good-paying jobs, on average – as many as 650 during peak work times – and 25 permanent skilled positions when operations begin.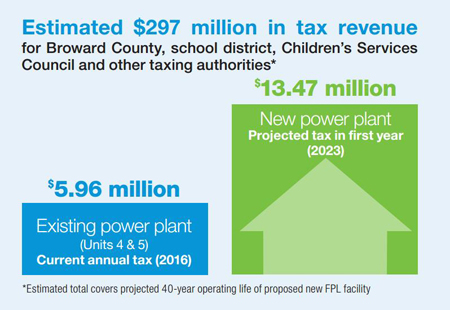 Project construction will also produce indirect economic benefits from the purchase of goods and services from area businesses – from engineering and design firms to construction subcontractors and suppliers. Service providers throughout the area, such as restaurants, retail stores, service stations and others will also benefit as the impact of construction spreads through the local economy.
In addition, the modernized facility will help generate $337 million in estimated net cost savings for FPL customers across Florida. Also, the plant is situated in the critical Southeast Florida area, where more power generation is needed to keep pace with the growing population and thriving economy in Broward and Miami-Dade counties. As a result, the location of the planned facility will help improve service reliability for FPL customers in the region.