Committed to Environmental Excellence
At FPL, we're committed to environmental excellence in everything we do. In fact, our operations are 30 percent cleaner than the national average.
Using clean, U.S.-produced natural gas and "combined cycle" power generation technology, the future Dania Beach facility will be one of the cleanest, most efficient of its kind in the world. Compared with continuing to operate the existing power plant that operates at this location, our new facility will cut primary air emissions by 70 percent, generate more energy and reduce the overall use of natural gas throughout the FPL system. It will also use key components of the existing energy infrastructure. That means:
No new offsite power transmission lines
No new natural gas pipeline
No new electric substations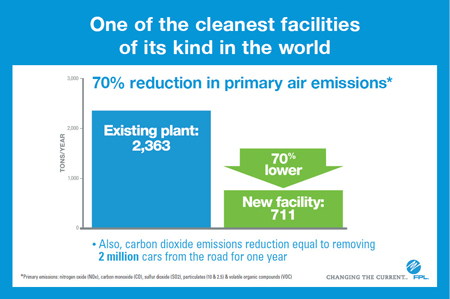 The future facility is part of FPL's investment in high-efficiency power generation facilities fueled by U.S.-produced natural gas. Since 2001, these investments have prevented more than 120 million tons of carbon emissions, enabling us to shut down coal-burning power plants and reduce our use of foreign oil by about 99 percent – from more than 40 million barrels per year to less than 1 million.
Also, our facility will remain an important warm-water refuge for manatees. FPL's current power plant in Dania Beach has become an important haven for this iconic species during cold weather. As we dismantle the existing plant, we'll install temporary water-heating equipment to keep the water warm for manatees until the new clean energy center is up and running in 2022.
The proposed Dania Beach Clean Energy Center successfully completed a detailed review by the Florida Department of Environmental Protection to ensure it meets strict state and federal environmental requirements.