The FPL Dania Beach Clean Energy Center is needed to replace our existing power plant, which was last updated nearly a quarter-century ago and uses technology that dates as far back as the 1950s. The planned facility will produce approximately 1,200 megawatts of energy fueled by natural gas – enough to provide power around-the-clock for approximately 250,000 homes.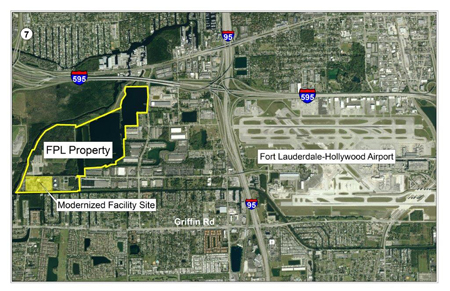 Our Dania Beach property has been the site of power generation since 1927. We plan to use several key components of the existing energy systems on the property – that means no new offsite power transmission lines, no new electric substations and no new natural gas pipelines will be needed. Compared to the current power plant at that location, the FPL Dania Beach Clean Energy Center will:
Produce $337 million in net cost savings for FPL customers
Cut primary air emissions by 70 percent
Generate more energy
Reduce FPL's overall use of natural gas system-wide
Substantially increase local tax revenues
Our facility will have a sleek, modern appearance and require less equipment than the existing plant, including 50 percent fewer: power (combustion) turbines, steam generators, steam turbines and stacks - all reduced from four to two.
The future FPL Dania Beach Clean Energy Center successfully completed comprehensive reviews by county, state and federal agencies to ensure it meets all regulatory requirements. Florida's Siting Board unanimously approved the project in November 2018.
See our FPL Dania Beach Clean Energy Center fact sheet for more information.