/content/fplgp/us/en/northwest/about/education-and-workforce-development/energy-show.html
Energized Guyz features a zany cast of characters that will have students rolling in the aisles as they deliver important messages about energy conservation to make the world a better place for us all.

The show is performed by professional actors from The National Theatre for Children based in Minneapolis, Minnesota. This organization specializes in writing and performing educational programs for children nationwide using simple sets and audience participation. The program is offered to public, private and charter schools in communities served by Florida Power & Light Company.
Here are the details:
Who: K-5th grade students in FPL's service area. Presentations are tailored for K-2 or 3-5 grade audiences.
What: 25-minute live-stream performance, student playbook, online teacher toolkit and a comprehensive e-learning package. Depending on number of students, more than one show is scheduled.
Where: Online programs and live-stream performances coupled with robust e-learning packages.
When: During regular school hours.
Why: To teach the importance of energy efficiency through a fun experience.
Learn More: View PDF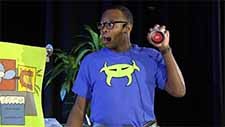 Testimonials
"The actors were very energetic and held the students' attention throughout the performance."

– LuAnn Comes
Reading Resource Specialist
Sheridan Park Elementary
Hollywood, FL
"Thanks for the program. My kindergarten students loved it. We looked for ways to save energy in the classroom and they spent the rest of the day reminding me!!"

– Patricia Stancil
Kindergarten Teacher
Sallie Jones Elementary School
Punta Gorda, FL
"Actors were AMAZING!!!"

– Trisha Ward
1st Grade Teacher
RCSP
Plantation, FL
"This was a great introduction to the Energy Unit I am starting. Thank you!!!! The students loved it"

– Kelli Barrios
3rd Grade Teacher
Pembroke Pines Elementary
Pembroke Pines, FL
"It was very enjoyable for the students. Some of the kids were telling others to turn off the lights when they were leaving the room. I think they got the message. : )"

– Patricia Wahberg
K-6 Science Coach
Myrtle Grove K-8 Center
Miami Gardens, FL
"Thanks for bringing your program to our school. The kids really enjoyed the show and learned lots of good information."

– Carol White
5th Grade Teacher
North Glade Elementary
Carol City, FL
"This program is very nice and it is related to the FCAT science curriculum being covered in the 5th grade classrooms at this time."

– Maria Ramos
5th Grade Teacher
Henry M. Flagler Elementary
Miami, FL
"This was an absolutely fantastic program from start to finish. Students were completely engaged the entire time. Well done!"

– Christy Bishop
4th Grade Teacher
Meadow Park Elementary School
Port Charlotte, FL