/content/fplgp/us/en/save/resources/ceiling-insulation.html
Did you know proper ceiling insulation keeps heat from entering your home during hot summer months?
It does! In fact, ceiling insulation is vitally important to your home's energy efficiency and reduces the workload on your heating and cooling system, allowing it to live a longer life — and helps you save up to 15% on heating and cooling costs annually. Let one of our Participating Independent Contractors (PICs)* inspect your attic and determine if your home has enough ceiling insulation.

Ceiling insulation benefits
Increase efficiency — Helps keeps heat out during the summer and in during the winter
Lower your usage — Reduces the workload of your heating and cooling system
Save money over time — Can result in additional savings on your electricity bill
Stack up to $1,420 in savings when you upgrade your ceiling insulation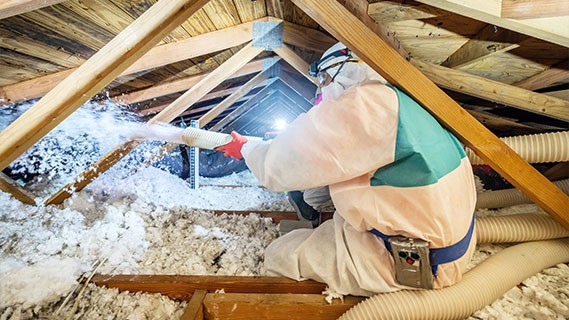 Instant rebate
Use one of our qualified contractors on your project and receive an instant $220 rebate as a credit on your invoice.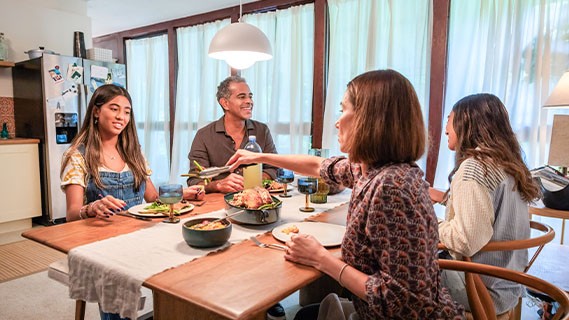 Tax credit
Apply for a federal tax credit to claim 30% of the project cost, up to $1200 when you upgrade your ceiling insulation. See FAQs.
Frequently Asked Questions
What are the requirements to qualify for the $220 ceiling insulation rebate?
Home's insulation current R-value is less than R-8
Purchase upgraded ceiling insulation
Installation completed by one of our FPL-approved PICs
Provide access to all attic spaces
Rebate can only be used once every 20 years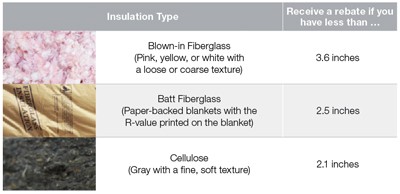 How do I receive my $220 ceiling insulation rebate?
When you're ready to upgrade your ceiling insulation, follow these simple steps:
Find an FPL-approved PIC or call 800-DIAL-FPL (800-342-5375) to schedule a free Home Energy Analysis with one of our Energy Experts
If your home qualifies, select a PIC that is right for you and call to schedule
PIC installs your ceiling insulation
$220 instant rebate appears as a credit on the invoice your PIC provides
How do I know if I qualify for the Inflation Reduction Act (IRA) tax credit?
When you upgrade your ceiling insulation and other residential renewable energy products, you can qualify for federal tax credits administered by the IRS. Get more details. 
What is a PIC?
A Participating Independent Contractor (PIC) is a qualified independent business that follows our program standards and you can hire to upgrade your ceiling insulation. Find a PIC.
Why should I hire an FPL-approved PIC?
Our PICs are professionally qualified to inspect your attic and help determine if your home has adequate ceiling insulation. They can also issue your instant $220 rebate certificate and deduct this amount from your final invoice. Find a PIC to schedule an appointment today. 
*The list of participating independent contractors (PICs) is a compilation of businesses that have agreed to comply with Florida Power and Light's Program Standards, and is not a recommendation by Florida Power & Light Company of a particular independent contractor. The decision to select, hire and the management of the participating independent contractor is the sole responsibility of the Florida Power & Light Company customer. THE PIC IS NOT AN AGENT OF, OR JOINT VENTURER WITH, AND IS NOT EMPLOYED BY, AND DOES NOT WORK FOR, FLORIDA POWER & LIGHT COMPANY; AS SUCH, THE PICS ARE NOT UNDER THE CONTROL OR SUPERVISION OF FLORIDA POWER & LIGHT COMPANY BUT RATHER ARE INDEPENDENT CONTRACTORS. FLORIDA POWER &. LIGHT COMPANY DOES NOT MAKE AND EXPRESSLY DISCLAIMS ANY WARRANTY, GUARANTEE, OR PROMISE, WHETHER EXPRESSED OR IMPLIED, INCLUDING, WITHOUT LIMITATION, ANY IMPLIED WARRANTY OF MERCHANTABILITY, FITNESS FOR A PARTICULAR PURPOSE, THE AMOUNT OF ENERGY SAVINGS TO BE ACHIEVED, THE SUITABILITY OR QUALITY OF MATERIALS TO BE INSTALLED BY, OR THE WORKMANSHIP OF THE PARTICIPATING INDEPENDENT CONTRACTOR SELECTED AND HIRED BY THE FLORIDA POWER & LIGHT COMPANY CUSTOMER.