/content/fplgp/us/en/northwest/energy-my-way/solar/in-our-community.html
Bringing solar energy closer. One community at a time.
Our Florida sun is what makes the Sunshine State such a beautiful place to live, work and play. We are committed to keeping it that way by advancing the use of solar energy in Florida. The FPL SolarNow™ program has helped bring solar energy projects into local communities. From solar parking canopies and walkways to solar trees, these innovative structures provide shade and use our state's own sunshine to generate emissions-free energy to power the grid and benefit everyone.
How FPL SolarNowTM Works
For $9 a per month, or about 30 cents a day, you can join other cusomers supporting the sustainment of solar energy in local communities. Here's how it works:
When you enroll in the FPL SolarNow program, $9 will be added to your monthly FPL bill.
Funds will go toward the operation and maintenance of solar energy projects in local public areas, such as parks, zoos, schools and museums. These structures are inspiring future generations to learn about the benefits of solar.
FPL will operate and maintain these solar projects.
Clean, renewable energy generated from these projects is fed to the energy grid and benefits the entire community.
View our frequently asked questions.
Solar Tree in Palm Beach Gardens
Children can enjoy the City of Palm Beach Gardens Aquatic Complex as solar trees soak up the sun nearby and generate emissions-free energy that benefits everyone.
Solar Trees at Zoo Miami
At Zoo Miami, visitors can stop to enjoy a cool breeze and some shade under one of our solar trees. The trees also serve as charging stations for your mobile devices.
Solar Trees at Port Canaveral
The FPL SolarNow trees at Port Canaveral were unveiled in 2018. Visitors to the area can enjoy shade and charge their mobile devices at all three solar trees.
Punta Gorda City Hall
Charlotte County is home to a few FPL SolarNow solar arrays, including this solar canopy at Punta Gorda city hall. The parking canopy provides shade for vehicles while generating clean energy.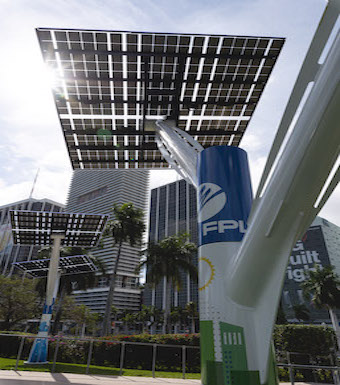 Solar Projects Near You
See some of our solar projects in action across the state, as we work to create a better tomorrow for all of us.
Solar Canopy in Fort Myers
Families visiting the IMAG History & Science Center in Fort Myers, Fla. can enjoy some time under the solar canopy where picnic tables are set up.
Solar Canopies at Laishley Park
Visitors to Laishley Park in Punta Gorda can enjoy some time playing on the grounds and catch some shade under the solar canopies generating clean emissions-free energy that benefits the entire community.
Solar Canopy at Kiwanis Youth Park
Visitors to Kiwanis Youth Park in Stuart, Fla. will have the opportunity to park under a solar canopy that provides plenty of shade.
Participant Benefits
As an FPL SolarNow participant, you have the opportunity to enjoy exclusive benefits like access to local events, discounts from partner organizations, and more.
---
---