/content/fplgp/us/en/northwest/business/bill/budget-billing.html
Keep your energy expenses predictable
Mild weather, extreme temperatures, new technology and old equipment are some of the reasons why your energy expenses fluctuate. But knowing what to expect in your electric bill each month helps you save money and keep your business operations running smoothly.
FPL works with business customer to find ways to simplify business operations. FPL's Budget Billing program stabilizes your business' cash flow and helps you better manage your business expenses by evening out your energy costs throughout the year so you pay about the same amount each month.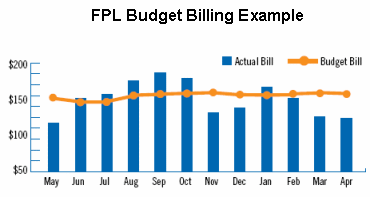 Do you qualify?
To qualify for FPL's Budget Billing® Program, customers must:
Have been in business and receiving FPL electricity bills for 11 months
Must not be delinquent on any bills for the past 6 months
How to enroll*
Log in to our website, or if you are new, register now (you'll need your FPL account number and last six digits of the Social Security Number associated with the account)
Review your FPL Budget Billing amount
Provide your name and e-mail address as acceptance, and complete your enrollment
How FPL Budget Billing is calculated
Your monthly Budget Billing amount will be based on the average of your actual bills during the last 12 months
We continue to read your meter each month. Your monthly bill shows exactly how much energy you use, the actual bill amount, and any deferred balance on your account
Each month 1/12 of your deferred balance will be added (or subtracted if a credit) to your average bill amount and becomes your current bill - so your bills will vary slightly from month to month.
Understanding your monthly statement
When you enroll in FPL Budget Billing, you will receive a monthly statement that includes three amounts:
"Actual Bill" amount - what you would pay on FPL's regular billing plan
"FPL Budget Billing" amount - what you owe as a Budget Billing customer
"Deferred Balance" amount - the cumulative difference between your "Actual Bill" and your "FPL Budget Billing" amount
We encourage you to stay on the program for at least one year to realize the benefit and to avoid paying a high deferred balance.
Ways to Pay
Ways to Manage
Ways to Receive